5 Tips For Keeping Your Pet Safe This Christmas
Posted on 14 December 2020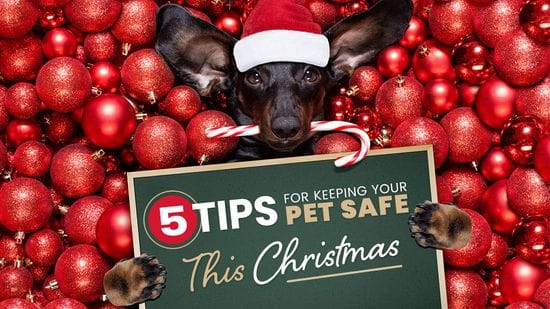 With the festive season upon us, it's important to keep in mind how you can keep your pets happy and safe throughout the celebrations.
While you might be thinking there is nothing dangerous about the holiday season for your pets, there's several human friendly aspects that just aren't safe for animals that might not cross your mind.
We've compiled a list of tips that will help your pet have the happiest and healthiest holidays possible (as well as little things you can do to make their time special!)
1. Be aware of toxic foods
Christmas food poses a real danger to pets, especially when it's kept in reach (or even in the trash). It's also important that those attending your Christmas celebrations know not to give into puppy eyes and feed any of these foods to your animals - even just a small amount can make a pet dangerously ill, potentially leading to a fatal outcome.
Avocados
Alcohol
Chocolate - baking chocolate and cocoa powders are also severely toxic.
Christmas pudding
Coffee
Cooked bones
Currants
Fruit Cakes
Grapes
Lollies
Ham
Macadamia nuts
Marinades
Onions
Pork
Raisins
Sugarless gum
Pets can be pretty tricky about getting their paws on something tasty, especially things they're not meant to have. In the event your pet has managed to get a hold of these foods, knowing the symptoms to look out for can help you take quick action and potentially save their life.
Symptoms include:
Diarrhoea
Excessive panting
Lack of coordination
Muscle twitching
Poor breathing
Vomiting
2. Quiet time
Though pets are naturally social creatures, they can be overwhelmed by the hustle and bustle of celebrations and parties. Ensuring there's a space where they can go to relax and enjoy some quiet time will help them remain calm and well-rested.
3. Reduce stress-levels through exercise
If your home is playing host to celebrations, it can help to exercise your pet prior to guests arriving so their stress levels are decreased. It also increases the likelihood they'll use this period of time to rest and take a nap. Keep in mind, with the Australian Summer in full swing over Christmas time, it's extremely important to be mindful of the time of day you exercise your pet to avoid heat stroke, sunburns and burns to their paws.
4. Keep Christmas decorations out of reach
Christmas decorations, especially when dangling from tree branches, are almost irresistible for pets. While pets may think these decorations are presenting themselves as an opportunity for play, they actually pose a real hazard and danger to their safety.
Plastic or glass baubles especially can look like a ball to your dog. If they're to put it in their mouth and either chew it or have it break on it's own, it can cause severe damage not only to their mouth but their internal organs as well. They can also cause cuts or get in stuck in their paws.
There's also the edible decorations like gold coins or candy canes to keep in mind - they're also tempting for your pets to get their paws on but pose a great risk to their health. Placing these towards the top of your tree can help reduce the risk of this occurring.
5. Treat them to something special
While there's several aspects of the holidays that aren't pet friendly, it's still nice to give them something special to celebrate with you. Whether your pet likes a special treat that is suitable and safe for animals to eat, a new play toy or just some extra one-on-one games and walks with you, your pet will appreciate you for it.
If you're concerned about your pet's health at any time or want to bring them in for a routine check up, book an appointment or call us on (07) 4630 8399 - we're here to keep your pet as happy and healthy as possible this holiday season. Click here to view our Christmas and New Year's Opening Hours.