Desexing Your Pet: Answering Your Questions
Posted on 8 March 2021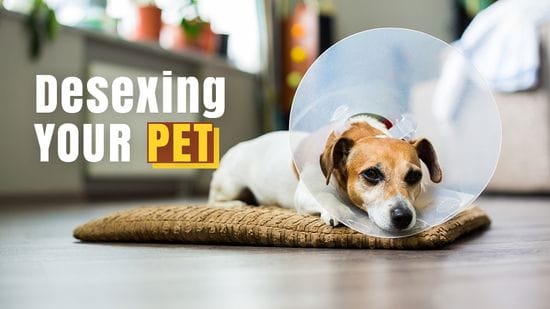 Desexing your pet presents many different health benefits. But, most of the time we are unsure of what these benefits actually are, which can lead us to wonder why we are putting our pets through this common routine procedure.
We've put together a list of common questions regarding desexing so you know what you can expect and relax knowing your pet is in the best hands.
1) When should you desex your pet?
Typically, we recommend desexing dogs from 4 to 6 months of age. However, some large breed dogs require desexing at an older age to aid in growth and bone development. This is particularly important for giant breed dogs such as Great Danes as they grow for much longer than smaller breed dogs (up to 2 years!). It's best to consult your veterinarian to discuss the best course of action for your dog on an individual basis.
For cats, desexing usually takes place at a young age as cats can become sexually active as early as five months old. We recommend desexing cats between 4 - 6 months of age. After 6 months of age all cats should be sexually active and this can make living with your cat more difficult.
2) Why should you desex your pet?
In dogs, desexing can help reduce behavioral issues such as aggression, wandering or trying to escape yards. In Female dogs desexing can help avoid unwanted pregnancy and bleeding when your dog is in season, as well as reducing risk of developing ovarian or mammary cancers, in male dogs desexing can help reduce the risk of developing prostate and testicular cancer.
In cats, it decreases the chance your cat will contract diseases such as feline immunodeficiency virus (FIV), or other illnesses caused by fighting with other cats such as cat fight abscess. Desexing also reduces the risk of cats developing testicular, ovarian and mammary cancers. Cats are more likely to wander to find mates or show signs of aggression if not desexed. Behavioural issues such as spraying or urinating in the house, on furniture or soft toys or clothes left around the house can also arise from leaving your pet cat intact. Cats also reproduce very quickly when compared to their canine counterparts, female cats can have up to 5 litters per year and typically have large sized litters, if a cat is left entirely and left to reproduce at this rate it also takes a heavy toll on their overall health. If cats are left to reproduce at this rate it quickly gets out of hand and very difficult to manage and find homes for the kittens while providing best care for you and your pets. Make sure you desex your cats to avoid any of these issues.
3) What is involved in desexing your pet?
Desexing is another word for sterilization - it doesn't remove your pets gender but rather inhibits their ability to breed. It's essentially birth control for your pets, helping to keep accidental litters to a minimum.
4) What happens during the desexing procedure?
While a standard procedure, desexing requires undergoing full anaesthesia.
In males, both testicles are removed from beneath the skin. In females, both the uterus and the ovaries are removed through abdominal surgery.
Desexing is a common and standard procedure, but as with any surgery involving anesthesia, there are risks involved. However, complications during the desexing procedure are not very common.
5) How should I care for my pet following desexing?
You can expect your pet to be shaved at the surgery site, as well as a few other places generally, a small patch on one or both of their front legs where the intravenous catheter is placed to administer fluids during surgery and possibly a small patch on the neck where blood can be drawn from.
At the incision site(s) there will be stitches, they can either be internal (not visible from the outside) or external (visible on the outside). Each Vet will determine which is preferred and the nurses will let you know at the time of discharge which sutures your pet has and whether or not they will require removing at the recheck appointment in 10 - 14 days after the surgery.
It is important to make sure your pet does not attempt to lick or chew at the sutures causing further injury or infection. If your pet does start licking or chewing they will require an Elizabethan collar (more commonly known as "the cone of shame") to be sure they cannot reach the surgery site.
Your pet will most likely be sedate for the next 12 - 24 hours postoperatively and will need to be kept quiet until the recheck appointment 10 - 14 days after the surgery. This can be difficult, especially given the young age at which pet's generally are desexed. But the last thing you want is your pet to tear their stitches out, so it is very important to keep them quiet and calm during this healing period.
If you notice any of these symptoms following your pet's surgery, contact us immediately:
Redness, swelling or discharge from around the surgery site
Vomiting
Torn sutures
Wound opening
Urinary incontinence
Reduced appetite for more than 2 days
Lethargy
Increased pain or discomfort
Diarrhoea or constipation
To book your pet in to be desexed, contact us on (07) 4630 8399 or by clicking here.
If you're concerned about your pet, it's best to get in contact with a veterinarian as soon as possible. Book an appointment or call us on (07) 4630 8399 - we're here to keep your pet as happy and healthy as possible.