Pet Microchipping: How it Works, How to Update Details & More
Posted on 16 July 2022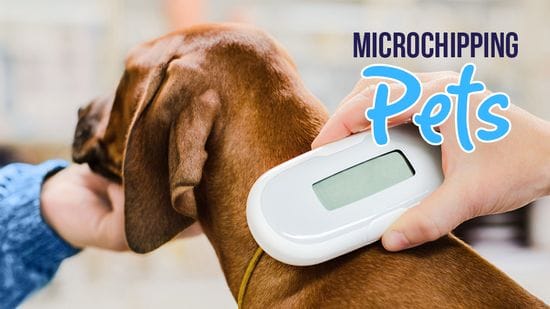 It's compulsory to microchip your dogs and cats in Toowoomba and South East Queensland. And more than that, it's the easiest way to help find your pet if they're lost.
How do microchips work in dogs and cats?
About microchips
Microchips are usually between 11-13mm in length and only 2mm in diameter. For a point of reference, that's about the size of an uncooked grain of rice.
They don't contain any tracking capabilities like GPS, instead, they can be scanned to find helpful information through a unique identification number. With this number, a vet (or whoever scans the number) can find the pet's owner's details and easily contact them.
That's why, if you ever find a lost pet without a collar or identification, you can bring them to your closest veterinary centre or shelter to scan this number and get them home safely.
How microchipping works
The procedure to microchip pets is similar to vaccinations and is short and relatively painless.
A microchip will be prepared and placed into a syringe, then a vet will use a small, sharp needle to help place the microchip - most often on a dog or cat's back, between the two shoulder blades.
The process only takes a few minutes all up and the placement only takes seconds. There are very rarely any side effects to microchipping pets apart from a short-lived tenderness at the placement site.
Your pet's microchip will last its entire life and won't need to be replaced. But, if your contact information ever changes, you will need to make sure it's up to date in the relevant database.
It's still a good idea to keep a tag on your pet's collar if they're microchipped
Even though microchips can be used to help identify lost pets, it's always a good idea to keep a tag on pet collars with their name (for recall) and your contact information. They help get pets home faster and make it easier for anxious pets who can be referred to and comforted by their name.
When to microchip your pet
Which animals need to be microchipped?
Almost any domesticated animal can be microchipped. And more specifically, all household pets including dogs and cats must be microchipped according to your local or state laws and regulations.
In Queensland, it's compulsory to have your dog or cat microchipped.
Ages to microchip dogs and cats
The Toowoomba region acts in accordance with the Queensland Government legislation (Animal Management (Cats and Dogs) Act 2008) which outlines that pets must be microchipped before the age of 12 weeks.
Dogs and cats can be microchipped after eight weeks of age, so there is a four-week window for new pet owners to act.
But what if you've recently adopted a new pet and you aren't sure if they're already microchipped?
How to know if a pet is microchipped
Because the chips are so small, it's unlikely you'll be able to find one by feeling through your pet's coat. Instead, you can find out if your pet is chipped by having them scanned.
If you've recently purchased a puppy or kitten between the recommended microchipping age bracket, or one that is older, the seller might have provided a certificate and details of the microchip registry company.
If they didn't, you can book your pet in with a local veterinarian to check for existing microchips or to place one.
If your pet is older than 12 weeks and you're unsure, you can book an appointment for a general check-up and scan for existing microchips.
Once you know your pet has a microchip, it's the owner's responsibility to ensure the details are correct and up-to-date.
How to update pet microchip information
What information is stored on a pet microchip
A microchipped pet only holds a unique identification number. The contact information like the owner's name, phone number, and address are all stored on the connected database to the microchip.
If you change your address or your contact information changes, you don't need to change your pet's microchip. You just need to update the information stored in the database.
When should you update your information on a pet's microchip
There are a few reasons you may need to update the information connected to your dog or cat's microchip including:
A change of residential or postal address

Change in ownership of the pet

A new phone number

A new email address
If you're moving interstate, check the local government laws regarding pet ownership. For Highfields residents, you can visit the Toowoomba Region's council website.
In this region, changes listed above like a change in ownership or address must be updated within 7 days.
How to update your pet's microchip
Updating information linked to your pet's microchip is easy and should only take a few minutes. Usually, changes can be made simply over the phone or through a website.
To update your pet's microchip information:
Find the database hosting your pet's details.
Access it by either logging into their portal or by contacting them.
depending on the database, either change your details or provide them with your updated information.
To find out which database has your pet's microchip details:
You can visit PetAddress and enter your pet's 15-digit unique identification number to find where you can update your information.
Or, you can contact us and we can scan your pet's microchip during your next checkup.
If you're moving interstate:
Interstate travellers moving with pets should be aware that state laws differ on microchipping regulations and databases may vary. For example, some states like New South Wales have independent databases that can't be accessed interstate.
If you have just moved interstate, or are looking to move soon, you need to ensure your details are updated as soon as you can.
Make a booking to microchip your pet
Highfields Vet Surgery offers microchipping services to both dogs and cats as well as other puppy and kitten services including:
Vaccinations

Desexing

Behavioural training

Puppy school
For bookings, call our reception team at (07) 4630 8399 between 7 am to 6 pm Monday to Friday and 8:30 pm to 1 pm on Saturday. Or, make a booking online for an appointment during those hours.